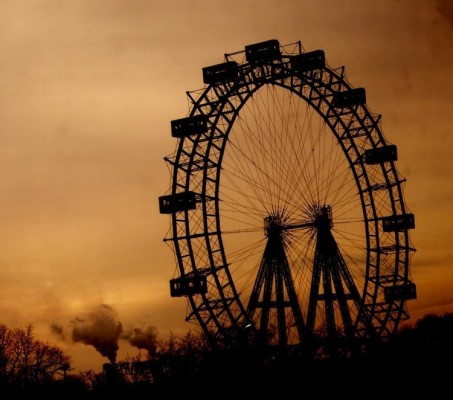 And so my journey continued. I saw a psychiatrist, a psychoanalyst and took my medication, but never really believed that any of them would help to cure me. I was starting my life over step by step. I went back to school for my master's degree, soon realizing that I was fully capable of dealing with the academic life and socialization at FAFICH, UFMG's College of Philosophy and Human Sciences. I went back to speaking with some of my old friends. Then came going out again, having fun, the night life. Life was impelling me back to living life again, without all the pain and trauma.
After a long time away from work, in late 2009 I saw a help wanted poster offering a job in a bookstore. I wasn't receiving any student benefits at the time and I needed a job in order to live independent from my family. So I decided to face the opportunity head-on. That was when the cycle of my life in the bookstore universe began. It was an educational bookstore, new and used. I quickly got the hang of it and became a good salesman. Besides, working in the city center, I was in constant contact with all different types of customers and coworkers of whom many have become friends of mine.
I was back to living life in full, with no remnants of that painstaking experience of journeying to the brinks of madness, nor any signs from the depression that had just paralyzed me for nearly a year. If you ask around, everyone'll say it was all the result of psychiatric treatment. I myself am not so convinced of this consensus. I believe that my soul, body and spirit required a certain amount of time in order to balance itself and regain the ability to continue the journey and lessons of life.
As if by magic, things started flowing again in my life again and with greater and greater intensity. I would wake up at five in the morning to write my master's dissertation, worked at least eight hours a day as a salesman and sometimes I'd even stay up at night to write when I had the time. And all the other layers of life just fell into place like patchwork. I went back to being that communicative, cheerful guy everyone knew, living every moment to its fullest. New women popped into my life, some stirring up greater and greater desires, others just fleeting nightly rendezvous.
I had another outlook on life now. I had already been through so much that I now knew how to assign value to the right things. I gained the humility to start over, valuing each person that appears on the road of life as an equal, independent of all prejudice, and thus discovering the ways of happiness. It was a magical time for me to have the chance to rebuild my life like that. Even my financial situation gradually improved.
In February 2010, I was still working at the bookstore when I threw a birthday party that no one would ever forget. I called all the friends I possibly could from all walks of life, and lots of draft beer, joyfulness and guitar playing. It was an intimate celebration for me of my rebirth. I was confident and happy, at peace with my inner self.
The flowers of joy bloomed in my life once again. Once again I was surrounded by friends. I was meeting new people in bars every night. I lived in order to know the good side of life. Everything was flowing well with my family, friends, and work. I grew more and more self-confident, and in parallel, increasingly leery about having to go to the psychiatrist and take medication.
One day, I'm not exactly sure when, I got up and made the decision to stop taking the medication. I felt balanced enough and ready for this decision. I had changed jobs, and everything was working out just fine. It was a time of bliss. The old "I," the historian, was transformed into a good salesman, successful in inter-personal relationships. Then I met a person in between jobs who sparked the flame of love in my life once again.
Although, it was just a tad complicated. When I met her she was already in a relationship. But there was a full on empathy thing going on between us since the very first time we set eyes on each other. We started going out but she still had this other boyfriend. It was an unusual situation, but my heart told me to invest in this person, whose eyes captivated me so, transpiring the essence of a pure, deep and melancholic soul. I went through a few tricky situations until she finally broke off from her other relationship. In any case, I always felt very happy and loving by her side. She inspired me to be my deeper "self," to devote myself to writing and to my musical side. I supported her at all times. It really was a beautiful relationship that nurtured my soul and my heart. If everything was going so well, why continue being held hostage to medication and doctors, I thought. And so I freed myself. I don't know how long I had been taking those pills, but I do know that I lived very well for several years after I stopped taking them.
After that relationship passed, with a bit of a complicated ending I might add, yet nothing that I got too worked up over, I went back to being single. I met other women. At work it was a straight shot up the workforce ladder with a new job traveling around the interior of Minas Gerais on book advertising excursions. One more point for my reconstruction. I felt good, and did not, even by a longshot, fear the appearance of new outbreaks or crisis.
The coming of a new year, and I got involved with another person. A coworker. Again, my heart was touched by the beauty and simplicity of a gaze which hinted to melancholy. I had a soft spot for this special kind of look in the eyes, as if I had some kind of mission to undo that melancholy by giving love. Again, another promotion at work. I became a supervisor, with lots of different tasks and projects to handle.
Everything was flowing nicely; my job, my relationship, my family life. It was impressive to see life so brightly and poetically, and leave behind my crises with the ghosts of the past. Heartened, I counted the years go by. According to theory, if five years pass since the first crisis, the possibility of other occurring would be minimal. I was at the fourth year in 2012, and there was nothing that indicated the possibility of reliving any of those situations. I believed myself to be a balanced person and in control of my mind. Even living the fast-paced, hard-working, on the road jobs and obligations, dating, family life I had, I was handling everything in a peaceful way.
Well, at least I thought I could handle it. In October 2012, a new cycle in my life began. First I was attacked by hernias in the cervical region, which was something very out of the ordinary for someone my age, considering how there were hernia protrusions on almost all of my cervical vertebrae. Right at the moment when an event I organized was about to happen, right as the project was well underway, I was attacked by severe hernias. I even presented my opening lecture with cold sweat from the pain running down my face. I went straight to the hospital. I had been medicated before by my mother who is a doctor, but new injections were necessary, and then physical therapy. I was excused for a time from work because of the hernias. I returned to work afterward, but from then on my life took on another turn on the Ferris wheel ride. The ghosts were there, dormant, waiting for an opportunity to wake up and come back. And they did, in even stronger ways, with unconscious experiences of deep spiritual connection, mixed with strong doses of psychosis…